Going through old scrapbooks and your kids loving every second.
This pic is from a page in my youngest daughter's scrapbook.
Addie had a Monkey birthday when she turned two.
And I made a Monkey Head Cake.
That scared the kids when I hacked into it with a giant knife.
Good times...good times.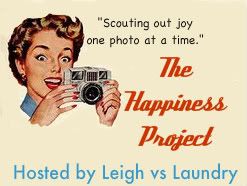 You've got something that makes you happy? Post a pic and link up with Leigh!