Every Wednesday, my buddy and pal,
Shell
, hosts a blog thingy about pouring your heart out. I normally go for drivel like boogers and craft talk. However, due to a recent conversation with my Hubs, he inspired me to pour out anyways. So here goes.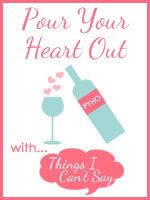 I want to smack the Proverbs 31 lady.
I know what you're thinking, because I'm like, 81% psychic.
Some of you are gasping, making signs of the cross and misspelling my name on your prayer list. Pray away, good soul. Pray. Go ahead. I dare you.
Some of you are mad.
How dare I besmirch the good name of the P31 lady
! Move along to my blogroll for other readings if you can't handle the heat.
Some of you are scratching your
armpit
head in confusification.
"Proverbs 31 lady? Who the heck is that?"
you ask. Well, let me just clue you confusified folks in.
See, there's this book, right? It's called the Holy Bible. Yeah, it's a great book. You should check it out. I just lost some of you. That's ok. Moving on.
Where was I? Oh yeah, so, the Bible. It has this book called Proverbs. Almost smack in the middle. It's full of great wisdomy things. And the last chapter is this set of accolades for this imaginary woman, affectionately referred to as
"The Proverbs 31 Woman"
.
And I hate her.
Well, I don't
hate her
hate her, just
really really want to punch her
hate her. Much like my acne.
"Where is all this venom coming from?"
you ask?
It's because the P31 lady-she's perfect.
And I'm not. I'm
sooooo
not.
Last night, I flopped on the bed in a PMS rumpled bundle and stared moodily out the window. My Hubs set down his book and peered inquiringly over at me. "What's up?" he asked. I shrugged with one shoulder. Thankfully, my Hubs knows me enough to know that the one shoulder shrug is fraught with meaning.
Ever get down, folks? Ever compare yourself to others and find yourself lacking? Ever feel like the day was a study in failure? Well I'm having one of those
years
weeks. It could be the surge of hormones interweaving their tentacles of acidic perception into every pore of my body. Or it could be that I just really suck.
Back to the Proverbs 31 woman.
So she's this great woman, right? This is what the passage says, summed up:
She's worth more than rubies, she doesn't do her husband any harm, she spins wool with eager hands, gets up at the buttcrack of dawn to make her family breakfast, she varies her cuisine meaning no boxed Mac & Cheese for her kids, she saves her spare change to purchase a stupid field and grow things on it,
she's a nightowl as well as able to get up early and while she's up at night she's sewing and making crap to trade blah blah,
she gives to the poor, she doesn't expect her husband to work at home because he's all busy in the town doing his man thing and willingly puts his socks in the hamper and takes out the trash,

she's not afraid of the future and doesn't worry blah blah, she's not lazy and doesn't choose to watch LOST instead of reading with her kids blah blah....ARGGGG!! I JUST CAN'T STAND HER!!!
Deep cleansing breath.
Sorry. Got a bit carried away there.
You see, I'm never going to measure up to this lady. This is my life:
*I'm always going to shop at Walmart. Sometimes I'll use coupons, but sometimes they're expired or I forgot them at home.
*When LOST is on, I'm not going to want to read a book, play a game or dress a Barbie. It's only on for this season and then I can go back to being at everyone's beck and call.
*I'm not a good cook. I'm trying. But some nights are going to be boring. Some nights I'm just going to order in because I'm tired.
*I'm never going to be happy picking up everyone else's socks. Whilst I work full time, I feel this is acceptable.
*Some days, I worry about our finances. The future is ever changing and murky.
*I sew, but sometimes it's crap. Crap I can't sell.
*I can't grow plant life. I can barely sustain life for my kids. Although, so far, they are alive and healthy. Miracles, they happen.
*I have no business sense. Hence why no etsy shop yet. I make and give. I do not accrue monies.
*I'm not a morning person. Never have been. Probably never will be.
*My elliptical is always going to go unused the majority of the time.
*I only have so many hours in my day to get crap done and sometimes, I'm going to say to heck with it all and read a book instead.
I'm never ever going to be this woman who gets it all done. I'm never going to be a size (insert model size here). I'm never going to be a famousy chef. I'm never going to make it rich because I know how to weild a needle and thread.
I'm just me. Flawed. Ill-equipped. Short-tempered and sometimes unkind.
So there it is, folks. Me pouring my heart out.
Anyone out there relate?