...losing enough weight to be able to put on your wedding rings.
I wear three rings. My engagement ring was my Hubs' grandmother's ring from like, 40 years ago. My Hubs bought two supah sparkly bands to go on either side. As the jeweler said, I am certainly making a statement.
Except for the last year or two, when my fingers have been a wee bit too fat to make much of a statement other than "please don't mistake me for the breakfast sausage!".
So it was with a sigh of relief that had nothing to do with gastric emissions that I slipped on all three of my wedding bands today.
This post is in conjunction with Leigh vs. Laundry and the Happiness Project.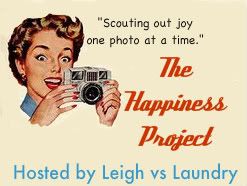 Tell me, folks, what makes you happy?