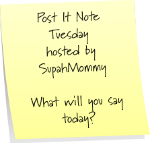 Genius! I love Post-its. I use them a lot. Important dates, book titles I need to check out at the library, random phone numbers, the essential ingredient I need for some random dish...they are all around me. So why not use them on my blog?
So here goes:
So far, so good I think. Let's write some letters.
And now, ever practical, this is what I need at the store.
Post-It Tuesdays. It's a good thing.