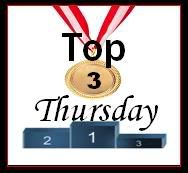 Just give me a bowl of milk and some catnip, because I am one
big fat copycat
. This is
Top Three Thursday
, where every Thursday the fine ladies at
Confessions of a Working Mom
,
The (Un)Experienced Mom
and
Much More Than Mommy
are listing their Top Three. And now I'm joining in the fun, too!
Meow
.
Today's question is:
What are your top 3 favorite TV shows?
This is a toughie. I've already talked about my love for LOST
here
and
here
. But I want to talk about some other TV shows, just for something new. So here goes...
Glee.
So much fun! If you like musicals and dancing and teenage angst and that sort of thing. Also, it's my goal in life to be doing something ultra boring and menial and to just ...
burst into song!
Maybe one day at Walmart I shall do this whilst choosing a tartar control toothpaste. You never know, I could be the next person on youtube.
The Office.
Oh how I love The Office. If you've not yet jumped on this bandwagon, you ought to be slapped a little. Just a little. And if you're an anglophile like me, you soooo need to check out the BBC version of The Office. Oh how I heart Ricky Gervais.
and finally...
Community.
Seriously, my

favorite

show on TV. And why couldn't my college experience be this much fun? Probably because it wasn't a community college and probably because I wasn't on a TV show. Alas.
So there you have it!
I must go curl up and purr now.